Our family lives have a bigger impact on us than we think. For good or bad, they shape us into who we are today. And who we are today is ultimately what determines our overall mental wellness. For some of us it's not our childhoods that cause us problems, but rather our current family lives that are causing us stress. Often, we don't know what went wrong, we just know things aren't right … and although we want to change things, we don't know how. It's hard to be a part of an unhappy family. It compromises our ability to venture out and enjoy life, feel fulfilled, and be free.
At Journeys of Life Counselling Services Inc. we'd like to help you unravel the frustrating tangle your family has found itself in. We know it takes the special expertise of caring professionals, the best psychologists we can find, to solve the mysteries of how a family functions, and we're dedicated to helping you do so, regardless of how many, or few, people are willing to join you in therapy. Although the more the better, one of the beauties of family therapy is that even if only one person wants to change things, it's still possible to get help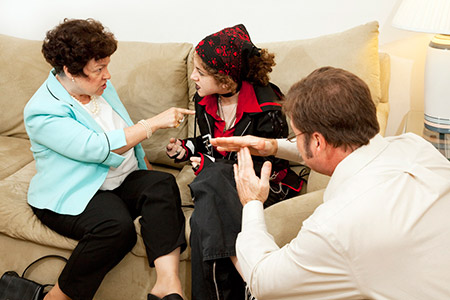 "Feelings of worth can flourish only in an atmosphere where individual differences are appreciated, mistakes are tolerated, communication is open, and rules are flexible — the kind of atmosphere that is found in a nurturing family. "
Virginia Satir
At JOLC we provide support for a range of challenges that families experience, including:
Family Conflict,
Life Transition Issues,
Separation or Divorce,
Blended Families,
Single Parent Families,
Extended Family Difficulties and Decisions,
Communication Issues,
Financial Issues,
Sibling Disputes,
Grief and Loss,
Chronic Pain,
Abuse,
Trauma/ PTSD,
Family Violence,
Co-Parenting Issues,
Parenting Struggles,
Anger Management,
School Performance Problems,
Stress Management,
Substance Abuse Issues.
Participating in family therapy is one of the most effective ways to address concerns related to your family system. Children are a part of this family system, so family therapy is often instrumental in helping your child or adolescent find the strength, support, and coping skills necessary to overcome potential difficulties. Family therapy may include only the members willing to participate or it may include all family members. The recommended treatment plan will be dependent on the issues presented during therapy and an overview of the unique dynamics of the family.
Family therapy is helpful in providing invaluable skills to deepen family connection through increased understanding and better communication, which will help your family survive stressful times.